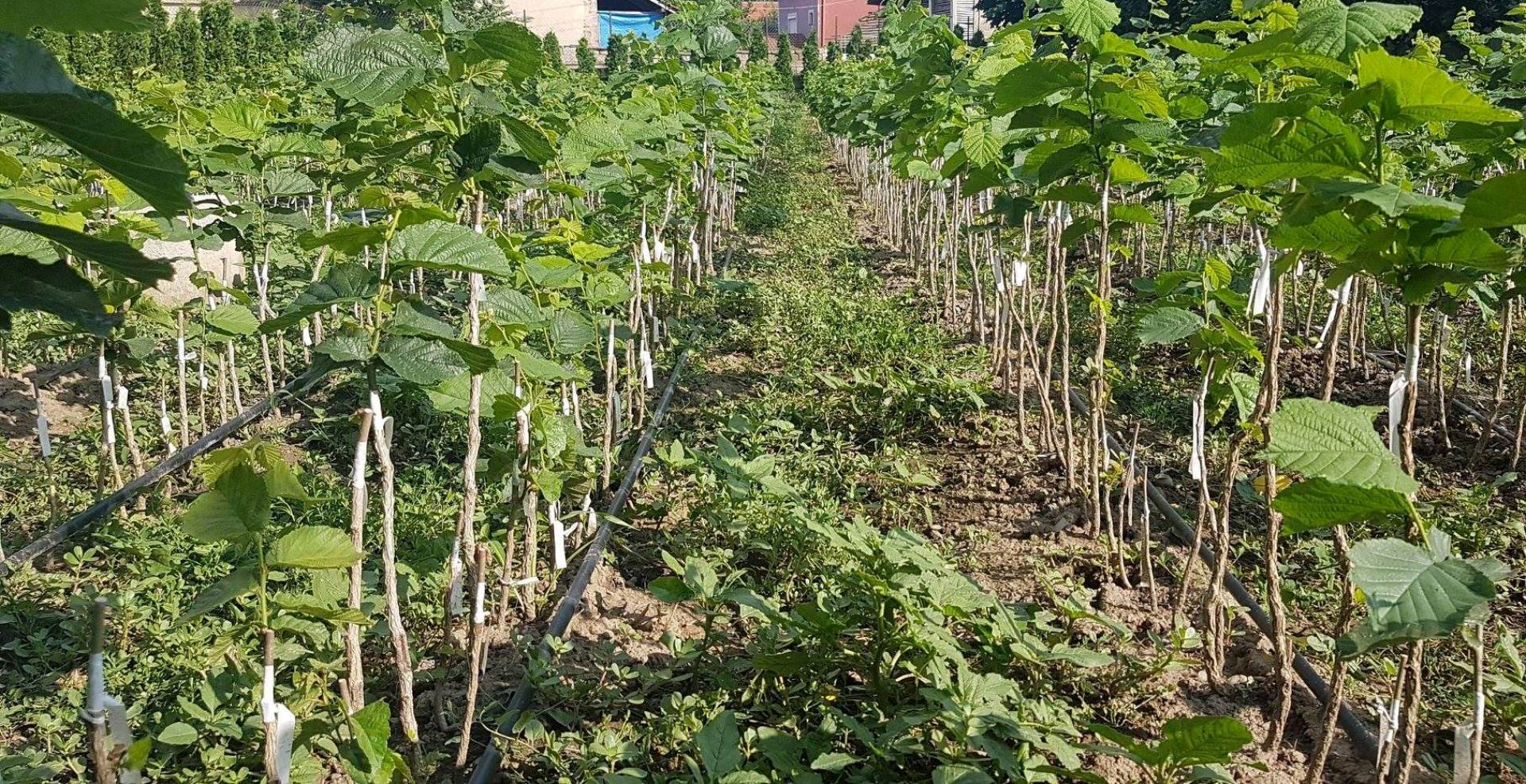 Hazel trees are more advantageous than hazel seedling in a bush form and that is why PLANT PRIMUS specialize in a production of grafted hazel seedlings. We are proud in a fact that we have been producing since 1998. We have adapted many important details for the successful production of grafted hazel seedlings.
TONDA GENTILE ROMANA

This sort is the most widespread in the middle of Italy. This is a very common breeding cultivar in Serbia. It ripens in the first half of September, and is very adaptable to the different environmental conditions. Time of blossom is from the middle of January to the middle of February. This is a homogenous sort of a seedling. The fruit is a medium size and it weighs 2,7 g on average.
---
HALSKI GIANT

Hazelnut tree can be up to 6 m high. It is resistant to cold winter temperatures. There are 2 to 4 hazelnuts in one bunch. There are lots of RESA?. The actual hazelnut is in conical shape with the squared base. The length of the fruit is 2 to 2,5 cm, and the width is 2,25 cm. It weighs 3,5 g approximately. It ripens at the beginning of September. Halski Giant is adapted to the continental climate. It is famous as a type of hazelnut with a very good yield, thus it is consider being a sort for a mass production.
---
TONDA ROMANA (ROMANA ROUND)

Tonda Romana hazelnut seedling origins from Italy. It ripens considerable late. The bush is pretty much dense. It is respectable cultivar of hazelnut. Average weigh of a fruit is around 3,2 g. It is greatly pollinated by Istrian Long, Ludolf, and Halski Giant. It is a decent polisher for the most of the sorts. The fruit is massive and is round-flattened shape. It has 4 hazelnuts per bunch of bloom. It has best adapted to winters.
---
ENNIS

Ennis hazelnut seedling is very dense. It ripens in early August. It has a very good blossom and is widely used in food industry. The fruit is enormous (4,2 g) and is round shaped. The core is big, attractive, and very tasteful with occupancy of a big 48%. Ennis is pollinated with Halski Giant. It has a good yield, quality taste, and that is why is greatly used in the industry.
---
ISTRIAN LONG

This is an old sort of Hazelnut. It ripens and begins vegetation early. It is mostly dense. The fruit is big and oblong It is hard to peel. The core is around 43% of the fruit. It has an abundant yield, and has bunch of 5 hazelnuts per one bunch.
---
LAMBERT

Seedlings of "Lambert" hazel cultivars originate in England, and there are in Spain and the USA, too. It can also be found in Balkan area. The bush is low to medium-sized and well-born. Blooming is late .Male flowers bloom earlier than female flowers (PROTANDRY ) . It is well polished by HALSKI GIANT , Contort, etc. The fruit-nut is dug with a rounded top on both sides and flattened. The husk is with light brown strips and medium thickness. Mature in late August. The dome is twice long as the nut and firmly wrapped it. The base on which the Lambert grafted are the shoots of the Corylus Colurna (mečja leska / turkish hazel).
---
ISTRIAN ROUND

Seedlings of "Istrian round" hazel cultivars originates from Istria, Croatia. The fruit is large, with an average weight of about 3 g. Round-shaped, tread in the fruit plane, the core is very tasty. The tree is very lush, the main fertility. Mature at the end of August. The base on which the Istrian grafted are the shoots of the Corylus Colurna (mečja leska / turkish hazel) .
---